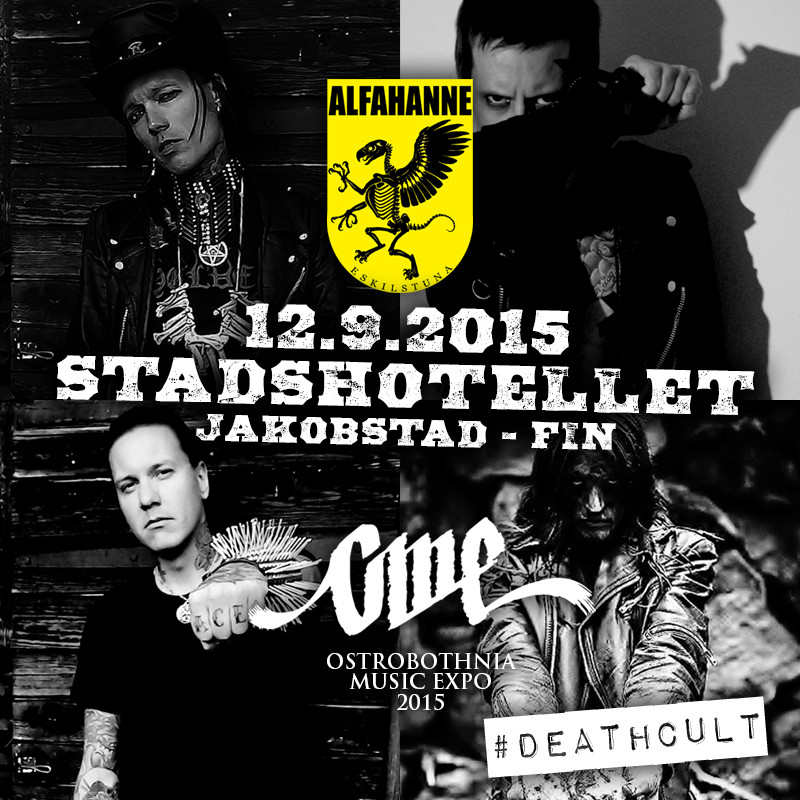 Alfahanne (SWE) performs at Ostrobothnia Music Expo after party 12.9.2015 at Stadshotellet, Jakobstad.
With a mix of Black Metal with Classic Rock and Punk, and topped off with some New Wave and Goth influences, Alfahanne has created a style of music that is powerful and beautiful, yet ugly at the same time. With members from 90's Black Metal bands such as Vinterland and Maze of Torment, Alfahanne formed in 2010 and released their debut album, "Alfapokalyps" in 2014. The debut got a great response, and the band followed up with live appearances at festivals like Inferno, Blastfest, Mörkaste Småland and Incineration.
"Blod Eld Alfa" buileds on the style Alfahanne started on "Alfapokalyps", with an overall sound that combines a unique mix of the dark and grim atmospheres of Black Metal, the attitude and energy of Punk and Classic Rock and the melodies and feeling of 80's New Wave and Goth. The band have been able to attract the services of Kvelertak's Erlend Hjelvik, Shining's Niklas Kvarforth, Spellgoth (Horna, Baptism) and Nattfursth (Sorhin) as guest vocalists, on one song each.
With Alfahanne, there is one way in and no way out!
"Blod Eld Alfa" album releases 09 September 2015.
Visit Alfahanne at:
https://www.facebook.com/alfahanneofficial
http://alfahanne.bandcamp.com/